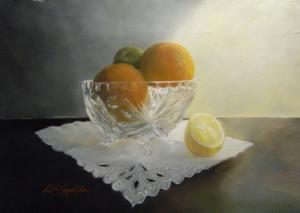 The Nutley Public Library is pleased to present an exhibition of fine arts by local artist Lori Ippolito. Her work will be on display for the month of October with an open reception on Saturday, October 12th from 2-4 pm.

Dr. Ippolito is an award-winning representational artist. Many of her oil paintings were created using the Flemish technique of the Old Masters – a series of layers utilized to create magnificent depth and luminosity. Her graphite portraits are also created in a series of finely detailed layers, each building upon the last to develop a multidimensional quality which breathes life into her work.

Ippolito's portraits have been showcased on FineArtAmerica.com where she was awarded First Place honors for 'Baby Portrait' in graphite and 'Sunday Best' in watercolor. Her graphite drawing, 'Elvis' received second place honors in the Best Pencil Portrait competition among FineArtAmerica.com artists nationwide. Other award winning works include second and...